How to Build a Business-Casual Wardrobe Part 2 - Business Denim Jeans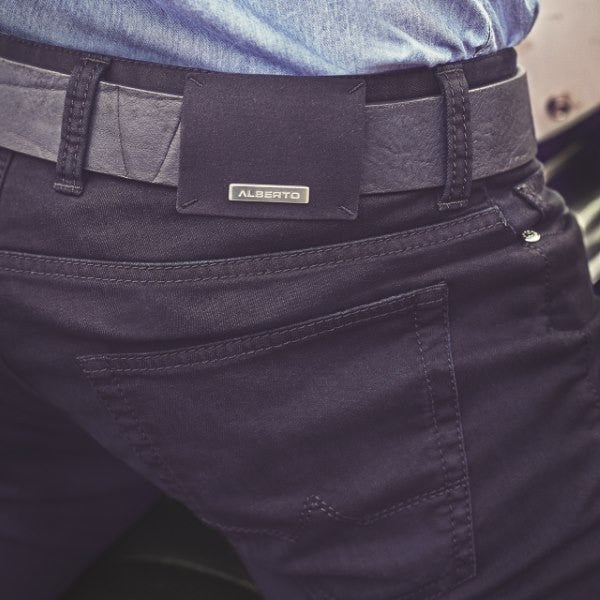 Previously we took a look at the foundation layers to your wardrobe - underwear, undershirts, and socks.  Now let's get into some primary pieces.  We'll begin with jeans.
Jeans
We aren't talking about your red-tab Levi's, please don't show up to work in those, ever.  They aren't flattering, the fabric does not look good or perform well, and they speak volumes about you in a bad way.  We are talking about real jeans here - quality cloth from a reputable denim mill put together, washed and finished by an experienced designer that understands fit.  These are the kind of jeans that last for years, wear well, wash well, and don't change their shape after a few hours leaving you with baggy knees and bottom.  
Weight, Wash and Fabric
Typically jeans will be made with an authentic or traditional denim with no stretch, or they will have been spun and interwoven with some stretchy fabric content, usually somewhere between 2% and 4% stretch content.  Usually, we are looking for a relatively clean wash or a wash with subtle whiskering lines at the front pocket area and a bit of fading at the knee.  In terms of jean weights, there are summerweight thin jeans, all-year jeans, and heavier jeans for colder climates.  Denim weight/thickness is typically spec'ed out in terms of ounces, but we will spare you the details here.
A few key pieces:
Black Denim Jeans - find a clean wash, either completely black or an off-black.  These will be your go-to in the fall and winter months, they match well with just about everything.
Dark Navy Clean Wash Jeans - These are your typical dark navy wash, keep it simple.
Mid-Blue Jeans - Not very dark navy, and not your faded light blue.  Somewhere in between.  They can be a little faded and weathered, or a simple clean wash.
Light Blue Jeans - More for summer months, look for a lighter weight here and find a pair with a bit of a faded wash and weathered look to them.
The Grey Jeans - They range from a dark charcoal/anthracite down to a light grey.  A neutral color pair of denim gives you some more options and versatility with tops and shoes.
Cafe Runner / Weekender Jeans - These are your comfy, faded wash, casual jeans.  Maybe for a casual summer Friday morning at the office, but mostly for the weekend or a casual evening out.  An older pair of jeans that needs to be retired from business dress can continue to serve in this new role.
There are of course colored denim or pants of the 5-Pocket variety but we'll keep it strictly denim here.  Briefly, these are going to be brown, blue, burgundy, green, olive, khaki, and so forth.
Fit and Style
Categorically we can consider jean fits as being in one of the follow groups.  Skinny jeans are not going to make the cut, and very baggy jeans from the late 90's era are not going to make the cut either.
Slim Straight Leg - These are going to be for the more progressive guy, and typically for a slimmer waist size from 29-34.  More forward in styling, these are your AG Matchbox fit, The Citizens of Humanity Bowery or Core fit, or you Alberto Pipe fit.  Spec-wise this fit will have a front rise of 9.5"-10", a knee of about 16.5", and a leg opening of about 14.5" - 15.5".  
Straight Leg - The typical jean fit, and a large part of our business.  Usually for waist sizes anywhere from 32"-40", these are your Citizen of Humanity Sid fit, your Agave Pragmatist, your Alberto Stone fit, and your AG Protege-Graduate fits.  A front rise of 9.75"-10", a knee of about 16-17.5", and leg opening in the 15.5"-17" range.
Relaxed Straight Leg - for the bigger or more traditional guy, these are going to be found typically for the 34"-42" waist sizes.  Not baggy or loose but with more room in the seat and thigh than your straight leg.  Also a good fit to consider for your Weekender or roadtrip jeans.  These will have specs with a front rise of 10.5"-11", a knee of about 17"-18", and a leg opening in the 16.5"-18" range.  These are your Alberto Tommy fit, your Agave Waterman fit, your DL1961 Vince fit.
And that concludes our brief overview for business-appropriate jeans.  There is still much ground to cover!