2018 Holiday Gift Guide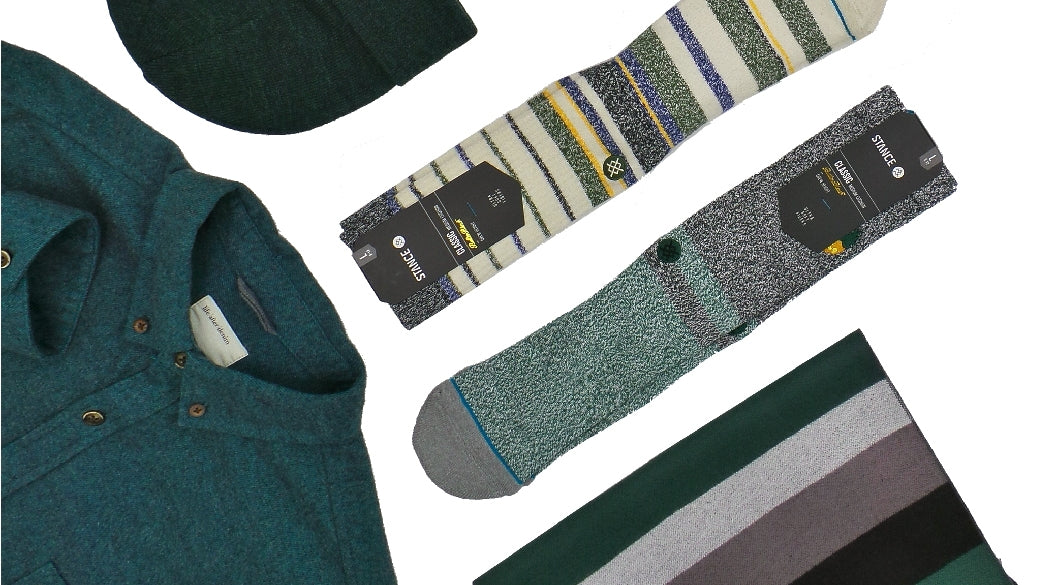 Seattle Thread Company welcomes you to our 2018 Edition Holiday Gift Guide!  Within we have the perfect gift ideas for you, from thoughtful accessories to unique big ideas!  As always we strive to find the best quality products available to keep our customers stylish, comfortable, and confident.  Most important of all, we hope that you and your family have a wonderful and safe holiday season. 
Olive and Green Accessories!
We have a wide selection of beanies, caps, scarves, socks and more for the perfect accessory gifts this holiday season!  Pictured above we have a mallard green flannel shirt from Life After Denim for a fresh and comfortable alternative to plaids and checks.  We also have a Merino wool beanie and the low-profile Hauler Low trucker cap from Seattle-based Coal Headwear.  Then we have a very soft and light bamboo and rayon blend scarf to tie it all together.
Home Decor and Chilly Evenings Out! 
 For the perfect home decor gift, we have laser-cut wooden coaster sets from Seattle-based Five Ply Designs!  Also pictured are the West Point and Pipe Tobacco candles, a convenient flask from Barbour for that next snowball fight as well as a Barbour scarf, and finally made in the UK gloves from Dents, which has been operating since 1777 and has a Royal Warrant by appointment to HRH The Prince of Wales!  Also pictured is the innovative solid cologne and shave cream from Fulton & Roark.
For that next Black Tie Event or Holiday Gala
 While black formal accessories might make for a dull photograph, they can really spruce up a formal look!  Pictured above we have two styles of US-made black satin bow ties, a subtle plaid necktie, and a ivory pocket square from LA-based Pocket Square Company.  Also pictured we have a high quality set of black satin cloth suspenders from JJ Suspenders -- started by an entrepreneur who tracked down one of the last good buckle-makers around and started making high-end suspenders when he discovered none were available!  Also pictured we have a US-made scotch grain leather belt from Martin Dingman, a Japanese automatic 3-hand movement with date watch from Deutsche-Uhrenfabrik, and Made in Italy birdseye pattern dress socks from Marcoliani.
Innovative Wallets and Accessories for a Well-Coordinated Look!
When people stop by the shop, they tend to spend a lot of time intrigued by our line of Secrid wallets designed and precisely manufactured in Holland.  A winner of the Red Dot design award, these nifty RFID-protection card holders and wallets are truly a great way to store and use your vital credit cards.  Also pictured are bellroy slim leather wallets, where every detail and stitch has been well-considered for the most practical wallets you can carry.  Then we have two US-made belts and a bracelet from New Orleans based Torino leather, a company that has rebuilt and thrived after Hurricane Katrina flooded their entire business!  Finally we have Italian-made socks from Marcoliani and Lorenzo Uomo, a US-made keychain from Pine Top Brand, and a US-made triple wrap leather bracelet from Kenton Michael.
A New Look for that next Holiday Event
 Here we have a sport coat from Carl Gross with a vibrant donegal pattern, available in both brown and charcoal colorways.  Underneath we have a subtle yet lively Made in Italy check shirt from Culturata, made of the finest and softest cotton shirting fabrics available from the best mills in Italy.  Tucked in the chest pocket is a pocket square, of course.
The Diamond Quilt Shawl Sweater
A customer favorite, this diamond quilt sweater from Billy Reid is available in both blue and charcoal colorways.  Suede elbow patches give it plenty of cozy character, and horn buttons and leather button closures add the perfect details.
Lambskin Moto Jackets
The perfect leather jacket is quite a find!  Available in Navajo, brown, and black this is a practical moto racer style lambskin leather jacket that has been properly dyed, stitched, and finished. Tonal stitched shoulder details provide plenty of character and uniqueness.
Quality Never Goes Out of Style
From New Zealand based Rodd & Gunn, here we have the Slope Hill Quarter Zip Pure Wool Ribbed Knit Sweater, truly a vibrant and wonderful article of clothing and a perfect gift.  Over top we have The Jack bomber jacket for plenty of style and substance.
Dressed Up Knits
From California-inspired Agave, here we have the Beacon sweater with unique dual-tone yarns. The body is knit in a 2x1 birdseye rib construction, and the yoke is knit in a specially engineered waved rib construction. The two-tone yarns used bring out the texture of the fabric, and create a new depth in color.  A bold and complex burgundy-charcoal color is the result!
A SCUBA-inspired Design
From New York-based designer Lenor Romano, we have a SCUBA-themed full zip hoodie in a blue and charcoal color scheme.  The high-zip neck will keep the wind and rain at bay!
Varsity-Style Bomber Sweater Jackets
From customer favorite Stone Rose, here we have bomber style full zip sweater jacket.  This performance knit bomber will keep him looking and feeling effortlessly cool. This layering piece has breathable properties to keep you dry and comfortable.  Available in black and blue colorways.